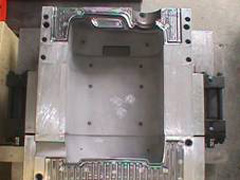 Koppa Engineering Pty. Ltd. offers solution for your Tooling requirements. We have capability to manufacture and supply a range of Injection Moulds, Die casting dies and blow moulds. We are equiped with latest CAD /CAM facilities, CNC machines and conventional machines. Our toolmakers are fully qualified with years of experience. We also undertake Jigs, Fixtures, Metal machining, Parts manufacturing and Product design.

Design to finished product:
We can turn your product design into a complete, manufactured and packaged product in our Melbourne manufacturing facility. We can develop product according to your requirement, design tool, manufacture tool and produce components based on your drawings and specifications. Moulding is taken care of at BEV Plastics.
We are equiped with CNC Machines, Lathes, Milling machines, Quality control instruments and Crane facility. Along with Australia, we have customers from India, Malaysia, Indonesia, Taiwan, Europe, Fiji and Canada.